Amplify your response rate on mortgage direct mail.
Amsive offers your business a multichannel solution for making data-centric marketing a reality – no matter how big or small your company is.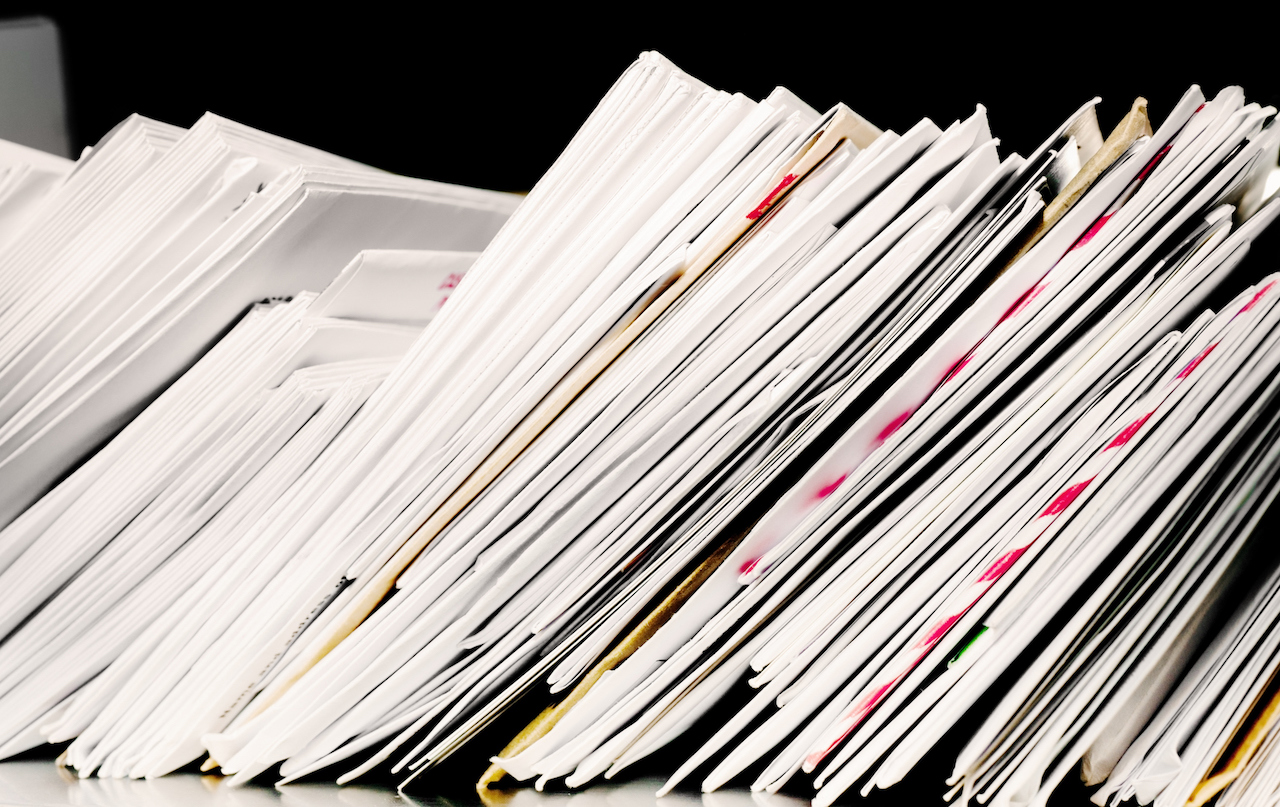 Are you a marketer with a small (or nonexistent) in-house team? We can help. As a full-service, Top 20 CRM Agency, Amsive processes over 650 million pieces of mail annually in our three production facilities across the U.S., with in-house USPS and state-of-the-art printing and technology to individualize every piece. 

We help you shape your strategy, identify audiences, develop branding and creative, and execute multichannel communications. Combining our vast data with yours, we amplify your insights by:
Identifying the right audience through analysis of your best customer as an individual.
Converting prospects into buyers through creative campaigns that amplify your message uniquely to their individual needs across all channels.
Bringing data insights and reporting to the table.
Handling all channel execution in-house.
Offering complete match-back, so you know exactly whom we served and who converted.
Mortgage Direct Mail
Mortgage direct mail solutions.
At Amsive, our mortgage marketing team knows how to drive results. FHA, VA, conventional, jumbo loans, cash-out refi, IRRRL, reverse mortgages, first-time homebuyer programs, non-owner occupied/investor loans, and even non-QM products.
We can create direct mail campaigns for every mortgage offering your company markets, and we put best practices in program strategy, design, and messaging to work for you.
Our team has decades of mortgage direct mail experience in various market environments. This means you can count on our experts to tap into the right data selection to reach the next wave of qualified borrowers for your pipeline.
FHA MORTGAGES
Find first-time and mid-income home buyers.
The Medicare AEP season is short. Our solution to help Clover Health gain new members needed to be future-proof and more innovative than the competition.
We developed a multichannel approach with highly segmented audiences to provide year-long education and awareness.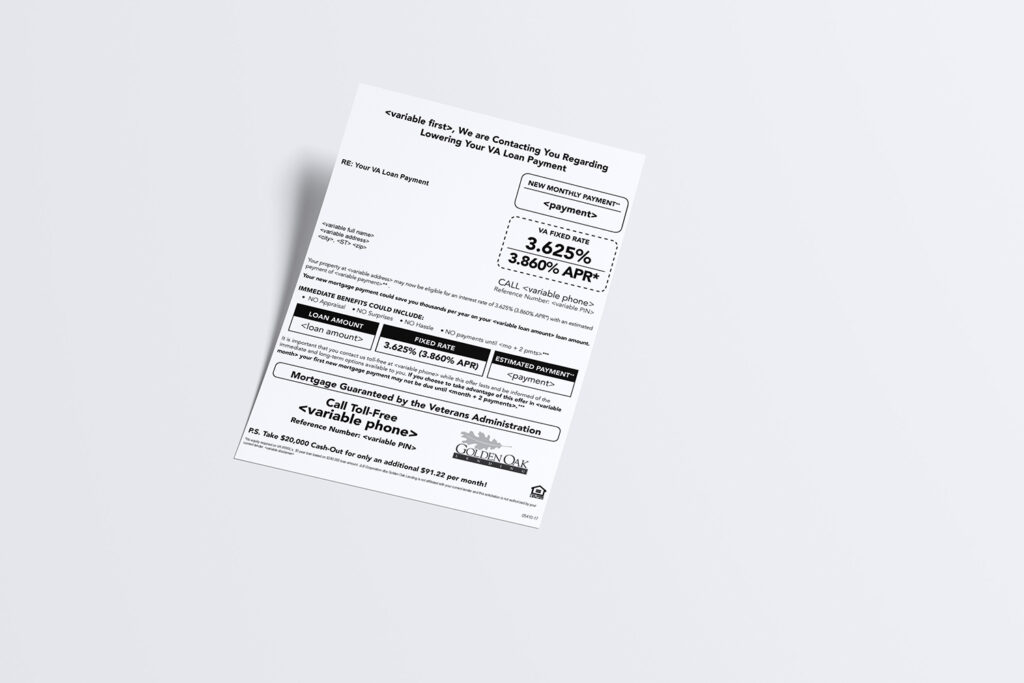 VA MORTGAGES
Connect with military and veteran homebuyers.
Military borrowers need the facts on VA home loans. With a direct mail piece, you can deliver those facts and provide value.
An interest rate reduction refinancing loan (IRRRL) is another product that VA borrowers need to know about. The VA recommends borrowers contact multiple lenders to find the best fit— make sure your company's name is at the top of their minds when they do.
CONVENTIONAL MORTGAGES
Reach credit-ready homebuyers.
FHA loans are popular for borrowers with lower credit scores, but conventional loans can allow for lower down payments for borrowers with better credit. You can give buyers the facts on each with a mortgage direct mail piece that explains the pros and cons in easy-to-read text.
Cash-out Refinance + HELOC
Market to past applicants and homeowners.
Target your past borrowers and other current homeowners with a mortgage direct mail campaign that explains everything a cash-out refinance or home equity line of credit (HELOC) to use for home improvements, large purchases, or even college costs.
Reverse Mortgage
Find right-fit homeowners for this unique product.
Thanks to TV advertising, reverse mortgages get more exposure than any other mortgage product. With your own reverse mortgage mail campaign, you can ensure that seniors in your area get the right information about the process.
First-time Homebuyer Programs
Target credit-ready home shoppers.
How will renters in your area find out about programs that may help them get into their first home? Reach qualified prospective homebuyers with a direct mail campaign showing them what's possible and how you can make the dream of homeownership a reality.
Non-owner/Occupied Mortgages
Find the right investors and improvers.
Thanks to the flipping movement and heightened interest in real estate investing, every homeowner in your area is a potential borrower. Educate them about non-owner-occupied loans with a strategic mortgage direct mail campaign.
Non-QM Products
Reach consumers with unique borrowing needs.
Some borrowers don't fit the parameters of a traditional loan, perhaps because of credit challenges, undocumented income, or foreign citizenship. Your mailer can explain how non-qualified mortgage products can help them buy a home.
Learn how to amplify your campaign results.
HOW WE WORK
A road map to effective direct mail.
Audience Strategies
Chances are you have some data on your customers already. Combined with Amsive's database platform of 250 million consumers, 400+ sources of online intent with over 70,000 data points, and credit bureau processing agency, you will understand, and reach, your best customer as an individual.
Multichannel Strategies
Our staff are experts at determining the best ways to reach your best customers wherever they are: email, search, social media, digital media, OTT, or their mailbox. We build a unified view of the target customer's channel preferences through data analysis, so we know how to engage and convert your best customers and your next customers.
Creative Strategies
We learn what matters from the data and create authentic campaigns and messaging that speaks to each reader or viewer as an individual. Our expert team of creatives help you connect uniquely to your audience's needs across every channel, helping you amplify engagement.
Measured Results
Amsive's granular analysis of your campaign will show you what consumers did on their purchasing journey, how each channel and device contributed, who converted to become your customer, and what the financial impact of your investment was. As new data come in, we continually reassess your campaigns to optimize future campaigns and amplify results.
Discover more direct marketing insights.