The Rise of Retail Media Networks | An Example of Today's Retail Media Networks: Kroger Precision Marketing | First-Party Data + Your DSP of Choice: Kroger Private Marketplace | The Future of CPG Advertising
Retail media networks are just getting started. As more retail media networks add advertising solutions and market share, advertisers are excited to see how retailers' first-party data and advanced targeting can score big wins for Consumer Packaged Goods (CPG) brands.

Launched in 2017, Kroger's Kroger Precision Marketing is one of the top ten U.S. retail media networks and an example of a forward-thinking player within this eCommerce landscape. With its recently launched Kroger Private Marketplace, Kroger allows advertisers to use its wealth of first-party data with the DSP of their choice. These types of innovative advertising solutions can help CPG brands prepare for the end of third-party cookies.

How can advertisers utilize retail media networks' latest advertising solutions to reach the right customer — at just the right time?
The Rise of Retail Media Networks
Have you heard of Albertson's Media Collective? Or maybe Lowe's One Roof Media Network? These are just some of the newest retail media networks to join the ranks of Target's Roundel, Best Buy's use of Criteo, Home Depot's Retail Media+, and more to offer a portfolio of omnichannel advertising services to mainly CPG brands that aim to build and target audiences.
Retail media networks offer advertising that's on-platform, across the web, and even amplified with influencers. Here are just some examples of the current omnichannel advertising options:
Single + Multi-Subject Emails
Targeted Digital Coupons
Static + Targeted Ads on High Traffic Pages
Product Listing Ads
Influencer Campaigns
Sponsored Content
Co-branded Digital Media
Digital Media Layered with Targeted Email or Direct Mail
Since Amazon's launch in 2012, retail media networks have gone from an intriguing new revenue stream to a necessity for the U.S.'s largest retailers. With carefully collected customer first-party data, retail media networks offer brands and advertisers access to target audiences at key moments of their customer journeys.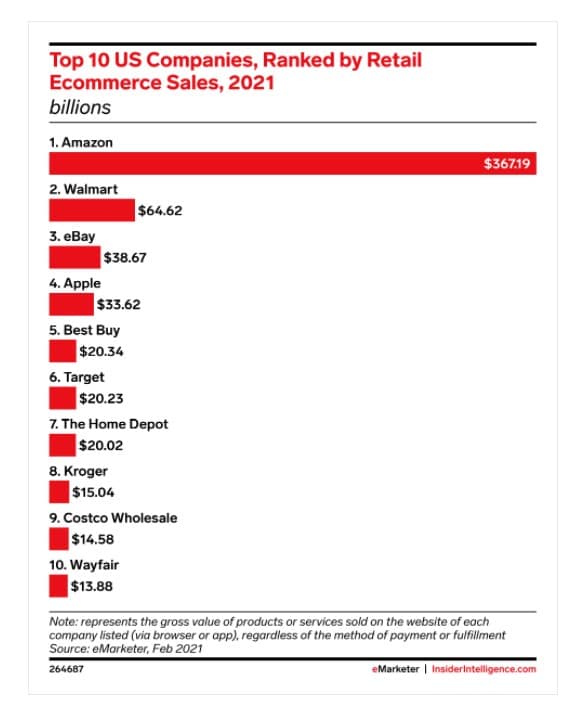 While Amazon continues to own the lions' share, other brands are growing within the retail eCommerce space. Accelerated by the COVID-19 pandemic, online shopping for everything from a new dishwasher to a tube of toothpaste has been normalized — and is here to stay.
The Growth of Online Grocery Shopping
A growing number of American consumers — accelerated by the COVID-19 pandemic — have gone from "running to get groceries" to ordering their essentials online. Online grocery shopping, once a novel part of the larger eCommerce landscape, is now growing by the day both in new users and also the amount spent by returning shoppers. Whitney Birdsall, eMarketer senior forecasting analyst at Insider Intelligence, stated, "By 2022, we expect that more than half (51.3%) of the US population will be digital grocery buyers." In addition to more digital buyers, the average annual spend per digital grocery buyer will increase from $856.47 in 2021 to $1,524.84 in 2025.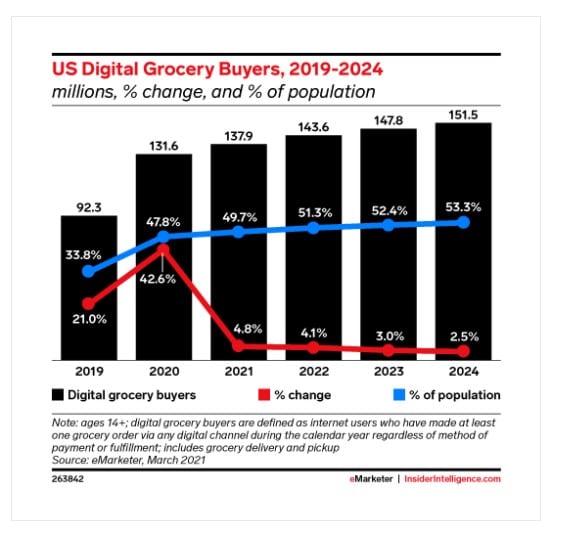 Kroger is one major grocery brand that's been evolving within this emerging eCommerce space since 2017. With its recent launch of Kroger Private Marketplace last month from its advertising offering Kroger Precision Marketing, Kroger continues to grow as an emerging leader within the grocery eCommerce space.
An Example of Today's Retail Media Networks: Kroger Precision Marketing
Kroger serves over 60 million households annually and describes its company as "America's largest grocery retailer." If there isn't a Kroger store close by, it's likely consumers are still shopping at a grocery store within the Kroger family such as Fred Meyer, Ralphs, Vitacost, and Baker's, just to name a few.
Since 2017, Kroger's growing number of online shoppers save not only a trip to the store but also receive a more personalized shopping experience with Kroger Precision Marketing. Within Kroger Precision Marketing is an array of advertising solutions for CPG brands to target audiences at key moments throughout their customer journeys. Kroger's retail media network is powered by customers' first-party data collected through its robust customer loyalty program that offers a "Kroger Card." As grocery sales go online, Kroger's eCommerce sales are slated to grow for the foreseeable future. Online grocery shoppers have officially reached critical mass — and Krogers advertising solutions are growing with them.
What Makes Kroger Precision Marketing Stand Out?
Kroger Precision Marketing is partnered with 84.51°, a retail data science company, and powered by PromoteIQ technology which was acquired in 2019 by Microsoft. Using Kroger's popular loyalty card program, Kroger Precision Marketing connects customers to brands through engaging moments that inspire purchasing online or in-store and closes the loop between media exposure and store sales. Its overall goal is to "make brand advertising more addressable, actionable, and accountable."
Kroger Precision Marketing (KPM), provides brands with full transparency into media performance. Kroger's self-service advertising platform allows brands to view in-store and online sales results attributed to advertising campaigns across Kroger properties and applies only verified transactions from both in-store and online customers.
Kroger's self-serve platform allows brands to run campaigns, optimize ads, and set bid prices based on performance measures such as sales and share of paid digital shelves. While all retail media networks, such as Kroger's, allow brands to interact with customers closer to the point of purchase than for instance Google ads, Kroger offers more opportunities for advertisers. This includes options for testing and control and additionally ensures the control groups are mirror images of the customers targeted within campaigns, not just the general population. These solutions produce increasingly accurate data to personalize and further optimize future advertising.
Additionally, Kroger recently launched its own machine-learning-backed platform that offers advertisers even more capabilities.
First-Party Data + Your DSP of Choice: Kroger Private Marketplace
Last month, Kroger Precision Marketing launched a new service full of first-party targeting capabilities — Kroger Private Marketplace. Kroger's press release announcing the launch states, "The Kroger Private Marketplace allows agencies and brands to reach consumers by applying Kroger audience data to programmatic campaigns within their preferred ad-buying platform." This means advertisers can use the DSP of their choice to reach brands' ideal customers and then optimize for performance against actual retail sales.
Advertisers will be able to drive performance in the following ways:
Target relevant households create audiences that match campaign objectives
Optimize with retail performance metrics such as sales lift, new buyers, and household penetration
Ensure safety standards with verification and brand safety tagging
This latest advertising solution harnesses the power of Kroger's first-party data to ensure precise targeting to each brand's best customer households. Advertisers can now layer Kroger's first-party data into their own media plans in what's truly a satisfyingly successful solution. From what we have seen historically, this is far from the last solution Kroger will launch and we're excited to see what else it might have up its sleeve to assist advertisers in the future.
The Future of CPG Advertising
The rise of retail media networks will continue to shake up the status quo of digital advertising. Understanding the benefits of platforms such as Kroger Precision Marketing can help CPG brands connect with customers at the right place — at just the right time. Additionally, shoppers can receive a more personalized customer experience and better price control from retailers with added revenue streams. Advertisers can only expect to see retailers continue to pour resources into this space to further innovation, technology, and ultimately improve ROI. What will Kroger Precision Marketing and other retail media networks offer a year from now? We can't wait to find out.
Interested in learning more about the benefits of retail media network advertising for CPG brands? Let's talk!