Creating insightful and valuable content is the bedrock of a successful digital marketing strategy. While marketers often use blog posts, whitepapers, podcasts, and infographics, video is one of the most potent formats for audience engagement.
Social platforms — Facebook, Instagram, TikTok — have welcomed the video revolution with open arms, presenting marketers with diverse channels to distribute their content.
But YouTube stands unrivaled, chosen by 90% of video marketers as their preferred platform for video promotions. One key to YouTube's success is its adaptation to changing content trends, as demonstrated by the introduction of YouTube Shorts.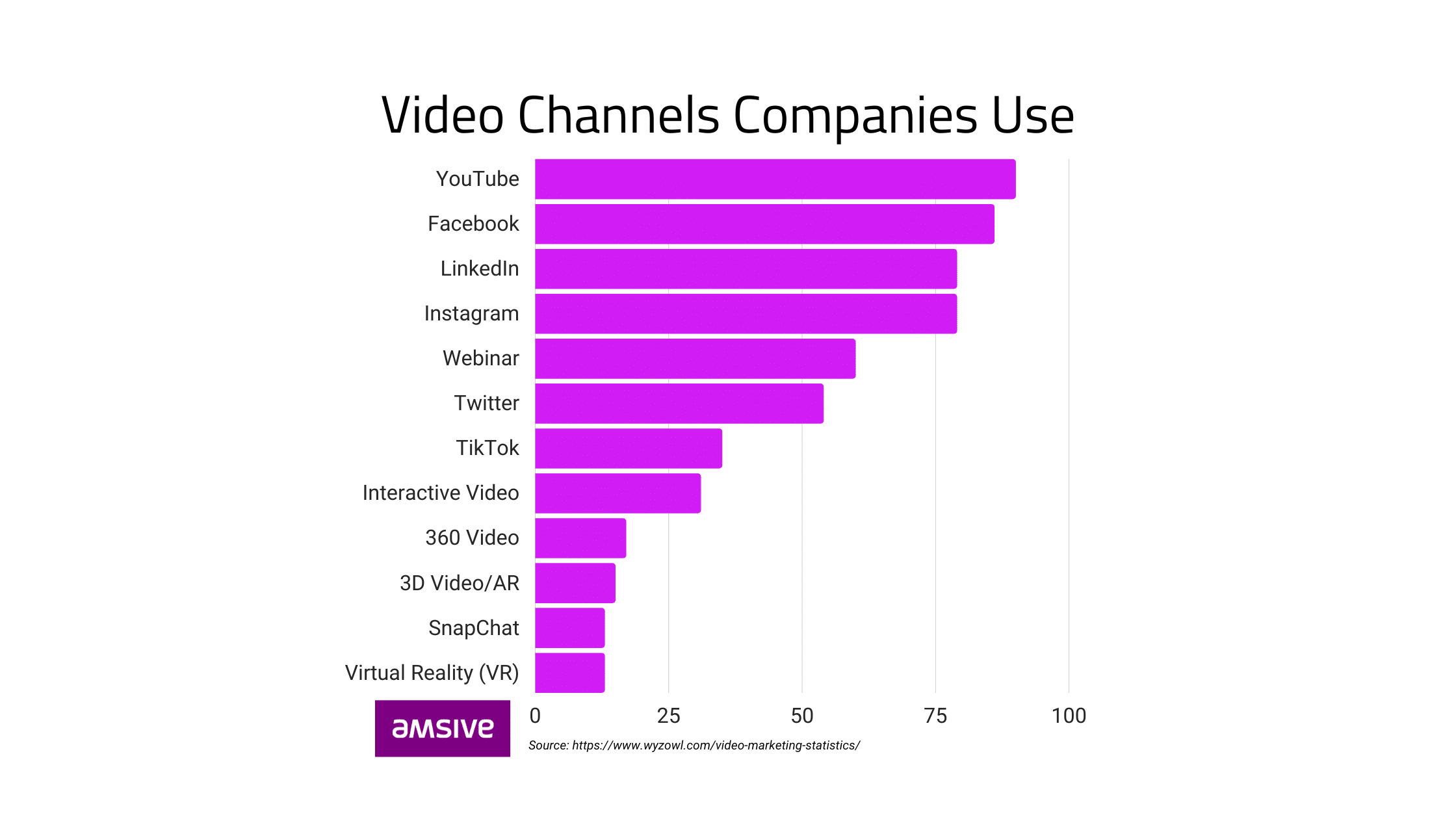 Image Source: Wyzowl
YouTube broke the "length myth" with Shorts, demonstrating that impactful videos don't need to be feature-length. Launched in mid-2021, YouTube Shorts now attract more than 50 billion daily views, providing a powerful tool to expand your platform audience and elevate brand recognition.
Ready to outperform your competition with short-form video content? Keep reading to discover optimization strategies that will propel your engagement rates and drive success for your video marketing campaigns.
Introduction to YouTube Shorts
The first video uploaded on YouTube was a simple 18-second clip called "Me at the Zoo," which foreshadowed YouTube's venture into short-form content.
With YouTube Shorts, the platform stepped into the arena of short-form videos, previously dominated by Instagram Reels and TikTok. This format has become an effective instrument for brands to cultivate meaningful connections with potential customers and establish a loyal community.
What are YouTube Shorts?
YouTube Shorts are vertical, short-form videos with a maximum duration of 60 seconds, designed to bring a fresh content experience to YouTube. Aptly christened "YouTube, but shorter," they captivate a staggering 1.5 billion monthly active users.
YouTube first rolled out a beta version of Shorts in India following the TikTok ban in August 2020. The idea was to let creators shoot and upload attractive bite-sized videos using their mobile phones in the 9:16 aspect ratio.
By March 2021, the YouTube Shorts player was already attracting more than 6.5 billion daily views. After a successful test run in India, the feature was rolled out to users in the US, and a global release followed in mid-2021.
Featuring an array of functionalities, YouTube Shorts include:
A multi-segment camera to record and stitch clips
Access to YouTube's comprehensive music library
Speed controls and color correction options
A countdown timer for hands-free recording
Auto-generated captions
Shopping and affiliate marketing options
That's just the beginning. Learn more about YouTube Shorts in this video:
The Rise of Short-Form Video Content
The rise of short-form video content, like TikToks and Instagram Reels, set the stage for YouTube Shorts. As consumer attention spans contract, there is a growing inclination towards succinct videos that encapsulate vital information in an easily digestible format.
Beyond enhancing audience engagement, short-form videos are instrumental in fostering product/service awareness. According to Wyzowl, 73% of consumers prefer to watch a short video to learn more about a new product, service, or brand.
Image via HubSpot
Short-form videos also deliver the highest ROI. These compelling statistics underline the urgency for brands to invest in short-form videos. But why should YouTube Shorts be your format of choice?
Evaluating the Worth of YouTube Shorts
Given the undeniable popularity and effectiveness of short-form content, it's worth taking a closer look at the specific benefits of YouTube Shorts for brands.
Incorporating Shorts into your content strategy enables you to reap the benefits of YouTube's expansive reach and the high engagement levels of short-form videos.
Here's how your brand can gain from YouTube Shorts:
Amplifying Brand Visibility
YouTube Shorts can turbocharge your brand's visibility on the platform. Since billions of users consume these videos daily, your content will command attention.
Your audience can discover your Shorts through multiple channels: the dedicated Shorts feeds, the YouTube homepage, and notifications. If your Shorts resonate with viewers, they are likely to share them, thus further enhancing visibility.
Moreover, YouTube serves diverse audience segments, from entrepreneurs and creative professionals to regular consumers, making it ideal for marketing a wide range of B2B and B2C brands.
A unique advantage of Shorts is their potential to redirect viewers to longer videos on your YouTube channel.
Engaging a Youthful Audience
Given the popularity of short-form videos among younger demographics, YouTube Shorts provide a golden opportunity to engage this audience. But unlike Instagram and TikTok, YouTube's user base is not limited to younger age groups. Around 17.8% of the platform's users are aged 55 and above.
Image via Data Reportal
So, even if your target audience includes Gen X or baby boomers, you can still use YouTube Shorts. It's part of what makes Shorts an excellent tool to diversify your audience.
Catalyzing Creativity
The condensed format of YouTube Shorts ignites creativity, compelling you to create concise, impactful content. It challenges you to conceive innovative content ideas that convey your message swiftly and effectively. With time being of the essence, maximizing every second with engaging visuals and storytelling is crucial.
For instance, you could produce various content types, from unboxing and how-to videos to life hacks and product reviews, rather than a long-winded product explainer. Views and engagement rates can be monitored to optimize your YouTube Shorts strategy.
In addition, YouTube Shorts offer a fantastic opportunity to repurpose long-form video content creatively. For example, snippets from a podcast featuring an influencer could be transformed into Shorts.
How to Leverage YouTube Shorts for Your Brand
Now that you're aware of the amazing benefits of YouTube Shorts, you might be eager to explore this avenue. Here are a few tips to help you get started:
Strategies for Creating Engaging YouTube Shorts
Once you've crafted engaging Shorts, it's essential to implement strategies for promoting them to your target audience.
Start by considering your audience's challenges and preferences to identify subjects and themes that resonate with them. Also, align their needs with different stages of the buyer's journey. This will aid you in devising content ideas that deliver value to them.
For instance, viewers in the awareness stage might prefer watching Shorts on hacks and tips to solve their daily pain points. On the other hand, viewers in the decision stage might prefer a genuine one-minute review shared by another customer or influencer.
You can experiment with various content ideas, such as:
Unboxing videos
Behind-the-scenes clips
Trends and challenges
Next, it's time to build a narrative for the video to convey all relevant information. Here are some tips:
Remember to keep the video free of fluff and irrelevant information
Use narrative hooks to capture viewers from the get-go
Include a compelling call to action at the end to guide viewers next steps
Enrich your videos with eye-catching effects and transitions, and ensure every frame is well-lit
Use a fitting voiceover or music to weave a cohesive narrative
Include subtitles for viewers who prefer muted videos
Promoting Your YouTube Shorts
You can promote your YouTube Shorts using SEO strategies, cross-promotions on other social platforms, and engaging with your audience through comments.
The rules of video SEO are also applicable to YouTube Shorts. You should add relevant keywords to the title and video description to ensure your Shorts appear when your target users search for similar videos on YouTube. 
Use tools like Google Keyword Planner, Semrush, and Ahrefs to identify keywords your audience will likely use in their search queries.
Depending on your target audience, your Shorts can be shared on social platforms like Facebook, Instagram, Snapchat, and TikTok. For optimal results, modify the videos, if necessary, according to user preferences and technical specifications on each platform for optimal results.
Finally, engage with your audience to foster a dedicated community around your brand. Actively monitoring and responding to comments on Shorts will enhance audience engagement and help maximize reach.
Case Studies of Successful YouTube Shorts
Despite being on the block for less than two years, YouTube Shorts have already grabbed the attention of leading brands. Here are a few examples:
Brands Excelling at YouTube Shorts
While we've discussed strategies, it's also helpful to look at real-world examples of successful YouTube Shorts campaigns.
Several brands have leveraged YouTube Shorts to boost their online presence and engage with their audience. One of the most successful examples is Glossier's #WrittenInGlossier campaign. 
In June 2022, the makeup brand asked 100 content creators to upload Shorts featuring Glossier's newest eyeliner and use #WrittenInGlossier in the title. Tapping the hashtag would lead viewers to Glossier's website, where they could buy the product. 
This campaign made Glossier the first brand to sell products through YouTube Shorts.
Image via YouTube
ESPN also uses YouTube Shorts to upload commentary, highlights, and trending moments. This provides the sports broadcaster an additional medium to engage their 9.33 million YouTube subscribers.
Image via YouTube
Other brands that have been acing the YouTube Shorts game include Food52 and NBC.
YouTube Shorts – A Valuable Addition to Your Marketing Strategy
As the human attention span wanes, the social trend of short-form videos will continue to rise, which makes this the ideal time to incorporate YouTube Shorts into your digital marketing strategy.
Recap of the Value of YouTube Shorts
YouTube Shorts offer a unique way to reach your audience, enhance visibility, and showcase your brand's creativity. Unlike Instagram and TikTok, YouTube lets you capture the attention of a wider audience demographic. Additionally, Shorts can be used to pique interest and direct traffic to long-form videos on your YouTube channel.
Key Takeaways
Embracing YouTube Shorts is more than keeping up with a trend—it's about harnessing a powerful tool that offers remarkable engagement levels, a high ROI, and a unique opportunity to broaden your audience reach in the B2B and B2C spaces.
Taking on YouTube Shorts may seem challenging initially, but the potential rewards make it a worthy investment. As you embark on this journey, remember to experiment, collaborate, refine your approach based on analytics, and allow your creativity to shine.
Next Steps: Mastering the Art of YouTube Shorts
With the key benefits and strategies in mind, let's dive into the next steps toward mastering the art of YouTube Shorts.
The following tips can guide you in leveraging the potential of YouTube Shorts. Like any other digital marketing strategy, success with this medium requires time, patience, and continuous optimization.
Plan Your Content Strategy: Develop a strategic plan for your YouTube Shorts, which includes defining your target audience, content types, and posting frequency. This strategy will serve as your roadmap and guide your efforts effectively.
Refine Video Editing Skills: Despite the brevity of Shorts, creating engaging content is paramount. Familiarize yourself with basic video editing techniques and leverage features within the Shorts camera tool to create dynamic content that stands out.
Engage with Your Community: Build and nurture a community by responding to comments on your Shorts and engaging in meaningful conversations. This engagement fosters a loyal viewer base, encourages content sharing, and potentially converts viewers into customers.
Don't forget that YouTube Shorts are just the tip of the iceberg when it comes to harnessing the full power of video. Want to discover even more ways to elevate your marketing content? Learn more about improving your brand's performance creative, or let's talk about how to achieve more for your marketing — and your business.