Adapted from the SMX Munich 2023 presentation, SEO, PPC, + AI in 2023 & Beyond by Inna Zeyger, Senior Director, Digital Media at Amsive Digital, and Lily Ray, Sr. SEO Director and Head of Organic Research at Amsive Digital.
Jump to the SMX Munich presentation slides
AI has captured the public's attention across the digital landscape, but it's far from the only factor shifting how we interact online. Take a deeper look at how to leverage automation and machine learning to supplement your work while also navigating global trends that affect how we do business.
Key Points About SEO + AI
The SEO world's hearts are aflutter with the enormous shifts in the industry following the introduction of Bard, New Bing, the latest version of ChatGPT, and more. The full impact won't be seen for quite some time, but it's important to state that AI chatbots will not replace search. However, they will change and enhance the way people search. The magic we're finding in using these products is really more about how they can be a sparkplug for imagination and help people explore their curiosity.
AI will not replace SEO work — but people who work in SEO should learn how to use AI.
AI tools can create significant efficiencies for SEO, but misuse can lead to serious problems. There's also more than just AI affecting the SEO landscape in 2023. Search results are governed by a series of ranking systems, all working concurrently to gauge and determine the best results for each term, and they're routinely updated throughout the year. Both the Product Reviews Update and the Helpful Content Update have had a dramatic impact on rankings on a range of sites. On top of these changes, Google is seeing potentially serious competition as a search platform from Bing, Amazon, TikTok, etc., for the first time in recent memory.
When it comes to the new chatbots, we know more about Microsoft's New Bing than we do about Google's Bard, given that the latter has yet to be released. Bard's initial release will use Language Model for Dialogue Applications (or LaMDA for short), and Google has said that they're focused on AI ethics and responsibility. We're waiting to see how effective it is when it finally launches, and the chatbots we currently have access to have some room for improvement.
What does Google say about AI content?
AI-generated content is another hot-button topic, and Google has already released some information about how they feel about it. AI content can be ok if:
It is original and high-quality
It demonstrates E-E-A-T
It satisfies the helpful content system
It doesn't propagate misinformation
It isn't created with the primary purpose of manipulating search results
On top of this, Google recommends including author names for content where it's relevant, disclosing the use of AI when it's used, and recommends against listing AI as the author of a piece. It's already fairly easy to detect AI-generated content, so it stands to reason that Google will be able to sniff it out in a heartbeat too. Beyond understanding the applications of and drawbacks to AI-generated content, keeping up to date on all of the latest systems and updates to Google's ranking algorithm will remain a core part of sustained success online.
Using ChatGPT and AI tools effectively for SEO
When used carefully, ChatGPT and AI content tools can be tremendously valuable for SEO. These tools' ability to comb through vast amounts of data can significantly cut back on the amount of time it takes complete otherwise manual tasks. It can generate summaries from recordings, transcriptions, and technical documents, help compile lists of relevant keywords, draft sample outlines, and more.
However, these tools also come with significant risks when used improperly. Simply copy-pasting AI-generated content can land you in hot water with search engine algorithms, especially when it comes to Your Money, Your Life (YMYL) topics. It's also important to keep in mind that these tools might not actually know what they're talking about.
What we can take away from what we know so far about AI-generated content is:
Use AI to increase efficiency, but be careful about misusing AI content
Helpful content requires effort
Taking shortcuts can catch up to you
Instead of focusing on scale, focus on content quality and E-E-A-T​
Stay in your lane
Invest in your authors' online reputation & build out their Knowledge Graphs
Overview of a Shifting PPC Landscape
Inflation, fueled by global supply chain issues, political unrest, uncertain cultural climates, and more, is impacting people and businesses in the United States, Europe, and across the globe. It's hard to find an industry unaffected by this, and it's had a noticeable impact on consumer behavior. With rising costs of transportation, technology, ticket prices, energy, and more, it's changed how people are spending their money.
One notable trend is that consumers are "trading down" and purchasing less expensive brands, primarily in product categories like food, personal care, and alcohol. They're less likely to invest in high-ticket items and services, favoring options that offer more longevity.
How to approach PPC in an uncertain climate
While today's climate is undeniably concerning for businesses looking to sell goods and services, one of the best things you can do right now is to continue investing in advertising. Pull back on spending if necessary, but stopping altogether can be seriously detrimental.
A study of the 2007-2009 recession using modeled data on 200 brands showed that those that completely eliminated their advertising during that period took nearly five years to return to pre-recession levels of sales revenue. Companies that pulled back on their spending somewhat recovered in about six months, and those who continued investing in advertising throughout the recession actually saw a growth in profitability in the coming months and years.
There are a variety of factors at play here, but at the heart of it is that by eliminating ad spend, these companies lost equity with Google Ads and opened up that shelf space to competitors, and needed a longer learning curve to regain their lost step once they restarted their advertising campaigns.
As businesses navigate this uncertain climate, it's important to optimize with a scalpel, not a sledgehammer.

It's not about outspending your competition, it's about outsmarting them. Work on improving the quality of your traffic by qualifying it before it gets to your website by getting back to the basics: negative keywords, keyword expansion, and testing.
Improve optimization for deeper KPIs if applicable, and invest in new advertising avenues like TikTok and Instagram. Gen Z increasingly turns to these platforms for their searches rather than Google. With competitive pricing on these platforms and unparalleled engagement, there's huge potential for an improved and more focused reach.
How automation + AI comes into play
These tools are already changing how some of the largest technology companies on the planet are planning for the future, and it's important to understand the opportunities available through them, at the very least. Investing in these tools and pairing them with skilled people to put them to work to find and capitalize on opportunities at a rapid pace in the marketplace can give you an edge over your competition.
How PPC and SEO Can Work Collaboratively
In order to best offset the effects of today's uncertain climate, pairing SEO and PPC knowledge together can help both aspects' efforts go farther than they would on their own. Sharing knowledge is key — by sharing search query reports and identifying keywords that can be mutually beneficial, it's possible to identify points of progress. In many instances, certain keywords can be too expensive or competitive to bid on, but it may be possible to rank high for organically.
There are other areas where paid and organic search overlap, including landing page optimization, GMB listings, meta information, and more. Ultimately, the key thing to keep in mind is that whether we're PPC, SEO, Social, or PR, all we're doing is driving quality traffic to a site just using different methods.
See the slides from SMX Munich 2023 presentation, "How AI is Impacting Paid and Organic Search" below. Check back later for a full transcript of Inna Zeyger and Lily Ray's presentation.
SMX Munich Presentation Slides:
Pictures from Lily & Inna's joint SMX Munich presentation: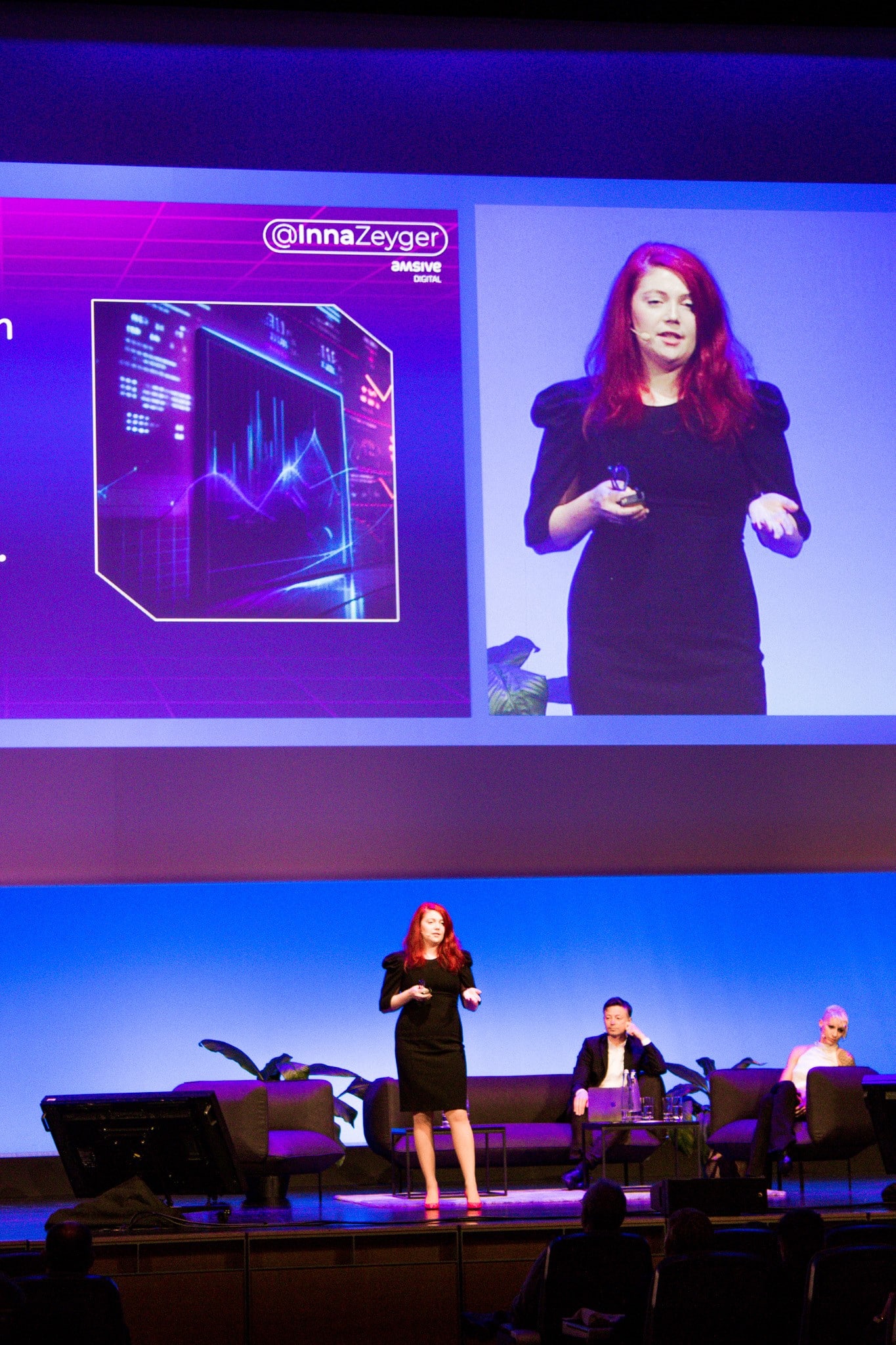 Learn more about the search landscape.
Understanding the changing landscape of paid and organic search is only one part of data-centric, performance-driven strategy, giving you the power to know and do more. Dig deeper into the benefits of bidding on your brand terms, or let's talk about how to achieve more for your marketing — and your business.