For decades, Black culture has had a prominent influence on youth slang, aesthetics, and even opinions. So much of what we consider to be cool was started and popularized by Black artists, creators, and celebrities. However, despite their profound impact, these individuals are often denied the credit they deserve for their contributions.
The rise of social media has seen Black influencers work to reclaim that narrative and begin taking steps to capitalize on their ideas, personalities, and audience. These creators have worked tirelessly to cement their brands, and in return, they have gotten major attention from companies that wish to form partnerships based on their talents.

Black Creators on TikTok
During the pandemic, TikTok saw a dramatic increase in popularity and marketers took notice. TikTok's unique video-sharing platform has allowed companies to expand their creative reach through influencers' unique personalities and individual audiences.
Black creators have been a driving force behind numerous TikTok trends and popular videos. Their reach has allowed them to capitalize on their personal brands and use creative ways to promote new products. Here are just a few.
The Peetes are a Black couple that has used their platform to speak about their marriage, family, and the day-to-day lifestyle that allows them to keep it all together while maintaining a healthy and fulfilling life. Exemplifying Black love, their honesty, grace, and humor represent the beauty of Black families that have often been misrepresented or ignored. The Peetes partner with companies whose products they use in real life.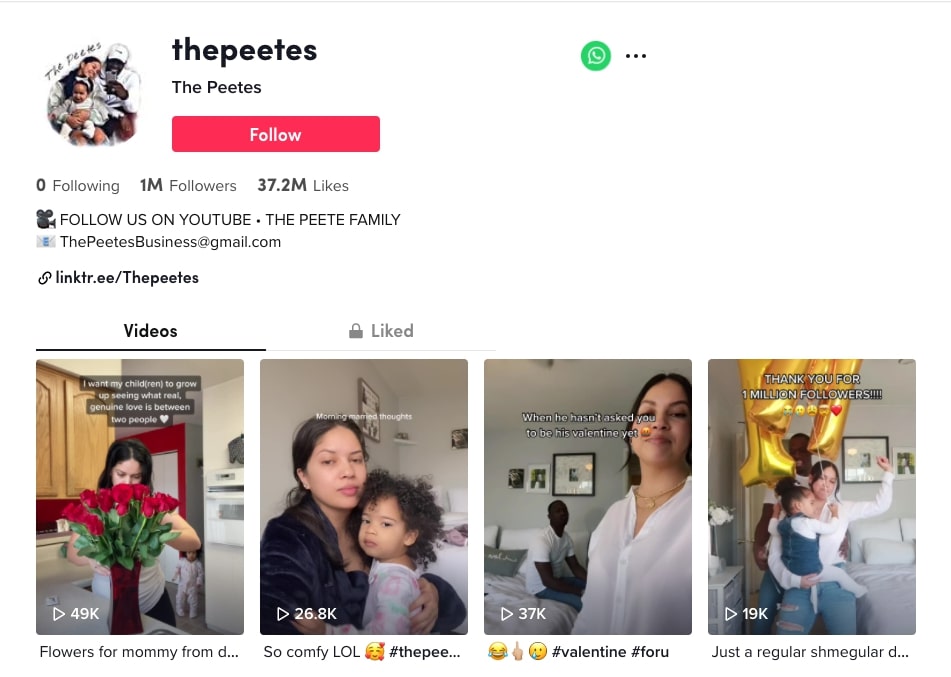 London Charles offers one of the first and most prominent examples of long-form storytelling on TikTok. His work has shown audiences that social media platforms can also be a space for ingenuity and episodic narratives. He uses TikTok to develop skits in the vein of Tyler Perry-esque comedies. It's a long-running series that features a large array of characters and scenarios that has garnered millions of views. His popularity and original content have made him very popular among brands that wish to be featured in his videos.
One of the most popular creators on this list, Tabatha Brown has used her platform to soothe and calm millions of people around the world. Her delicious recipes and positive, authentic attitude provide an important space where TikTok users can learn, relax, and hopefully find their favorite recipe. Her mainstream exposure has given her an opportunity to partner with brands that promote the wellness and happiness that she prescribes in her videos.
With a following of over seven million, Wisdm8 is taking the platform by storm. Clothes and style have always been an important representation of Black culture. Wisdom Kaye's unique style not only showcases his personality and flair, but also the evolution of Black taste and aesthetics. Offering a prominent view into the ever-changing but always beautiful sense of grace and swagger that Black culture promotes. His keen sense of fashion and charming personality has made him one of the most sought-after, up-and-coming models to emerge from the TikTok algorithm.
Black Creators on Instagram
Black excellence thrives on Instagram, showing the style, accomplishments, creativity, and diversity of the Black experience. These four creators are just a few of the many talented personalities that have used Instagram to develop their unique brands based on their gifts and identities.
Black people, especially Black women, have been pigeon-holed into an image of beauty that doesn't always show their individuality and style. Black women of all shapes, sizes and walks of life are working to flip that narrative.
Enter @gabifresh. She's a beauty and style influencer who's flipped not only the narrative but also wrote her own book. With over 850K followers, Gabi, who has dubbed herself "The OG fat girl," has shown the world that feeling beautiful in your own skin isn't just a natural-born right, but something that is to be expressed and celebrated to the fullest.Check out her Instagram to see the confidence and pride that so gracefully defines the Black community, as well as which sleek designer she's repping today.
When you think of a defense attorney, what's the first thing that comes to mind? Whatever it is, I can guarantee you it's not as cool as @iamcaez.
Caesar Chukwuma not only has the type of style and presence to make your favorite celebrity ask for his autograph, but he's also one of the most intelligent and helpful voices on Instagram.
Utilizing his intellect and observations, Caesar uses real-world situations and his personal experiences in the field to expertly communicate the law to his over 325K followers with his LawTalk series. Even more inspiring is that he uses this platform primarily to educate Black people on current events in the legal world that could affect us and how to best navigate the ever-changing landscape.
His virtuoso skills aren't limited to explaining the law. He also uses Instagram to expertly market his law firm, CLGlegal, and clothing brand, JayceDaemon.
Music is an integral part of the Black experience. After all, so much popular American music has been influenced, started by, or made famous by Black people. One of its most remarkable and enduring genres is hip-hop.
Many have tried to demean or dismiss it through the years, and many still consider it a disreputable music format. However, hip-hop continues to take over the popular consciousness. (This year's SuperBowl halftime show speaks for itself.) Justin Hunte, aka The Company Man, provides a powerful voice on hip-hop's past, present, and future.
Justin was a leading figure in hip-hop journalism and discussion for many years, using his Instagram account to serve an essential role in the culture. There he provides in-depth analysis about the historical legacy of the latest in hip-hop, education on the behind-the-scenes events in the industry, and most importantly, a place where up-and-coming artists can shine on a global stage. He has provided an eloquent space where hip-hop can be discussed and articulated in all its glory.
In the above TikTok section, @thepeetes showcased the beauty of Black love and Black families that have historically been misrepresented, if not shunned altogether.
Terrell and Jarius Joseph are not only another shining example of this, but they are also wonderful representatives of the Black LGBTQ+ community. Their loving and successful family has garnered the support of over 320K followers as they use their platform to highlight the ups, downs, and journey of their lives and home.
This inside look at an often forgotten or insulted family dynamic gives an authentic window into the Black LGBTQ experience, and their platform has afforded them many opportunities to work with companies and foundations that align with their values.
Black Creators on YouTube
It has been my privilege to spend the past month detailing the incredible work and presence of just several highly talented Black creators and influencers, sharing more about the unique culture, passions, and aesthetics that define the Black experience. To wrap up this series, here are four incredible creators who've made their mark on YouTube.
Sometime, we all just need a good laugh. RDCWorld1 is one of those YouTube channels that you could spend an entire day binge-watching and find something original, creative, and rib-achingly hilarious with each new video.
What makes RDCworld1 so fun is that there is genuinely something for everybody. Most of their comedic troupes are based on Black slang, experiences, and generalized beliefs. However, their subject matter ranges from anime to horror movies, and even cartoons.
The beauty in their work is how it showcases the fact that things that are stereotypically considered "white" or "Black" actually have a universal appeal across all races, even if their comedic expression is in a historically Black context. This universality is shown in their 5.6 million viewers and their extensive merchandising empire which is marketed through their channel.
In popular society, Black history often comes in three phases: the slave trade, the Civil War period, and the civil rights era. For many Black people, children especially, this is the only historical context they have about their people. This is a tragedy. Like every culture, the history of the African people, their culture, and the global African diaspora have thousands of years' worth of documentation. This history, if not outright lost, has been forgotten and ignored.
HomeTeamHistory has taken on the dignified task of changing the narrative. With a team of expert historians, this YouTube channel has sifted through thousands of historical documents, stories, and mythologies to provide a full context of Black history to their over 645k followers.
Their engaging narrations cover periods going back to the Neolithic Age and provide rarely discussed insights on how Black history impacted everyone from the Romans to Renaissance artists. Their platform has given them the opportunity to cooperate with museums, historical organizations, and more.
Musical expression is intrinsic to the Black experience because so much of our history, as well as the history of music in general, is based on Black aesthetics, taste, and history.
Similar to Instagram creator TheCompanyMan Justin Hunte, Lost in Vegas is another example of Black creators showcasing their love for music through honest reactions and opinion pieces. The Lost in Vegas team comprises of two close friends who react to different artists across all genres and musical styles. What's so awesome about their channel is that they review music that mainstream culture would have you believe isn't "for Black people", including country, heavy metal, classical, and more.
Lost in Vegas shows that Black taste isn't confined to a few stereotypical boxes. Instead, most of us find a deep appreciation towards the talent, work ethic, and creativity of artists, regardless of their genre of music. This channel promotes the diversity of the Black community while also showcasing artists both new and old, giving them exposure that may have been lacking.
The Lost in Vegas crew has used their successful platform to form strong marketing partnerships with publications such as Loudwire, and the Rolling Stones, as well as services like Netflix.
Kia Marie is a stylist and beauty influencer who has taken YouTube by storm. Her nearly 400K followers get to see her put together immaculate wardrobes and gorgeous makeup designs on a regular basis.
Her style is universal but is clearly rooted in Black beauty traditions and her platform allows her to show how Black culture and our historical standards of beauty deserve more recognition and appreciation, if for nothing else, because of the work and creativity that is put into it.
More so than anything her videos are so important to Black girls who are so frequently told to fit into an image of whiteness. Kia's uncompromising style shows everyone that your beauty is divined by your own self-worth and not the standards someone else places on you.
In conclusion, Black creators have had a powerful impact on the way we market, consume and understand different media. Breaking through stereotypes and blazing your own trail is a difficult and arduous undertaking. This past month, we've gotten to see firsthand the fruits of that dedication and ingenuity. However, let's not stop here.
One month out of the year isn't enough to gain a full appreciation for the Black creators who've made platforms like TikTok, Instagram, and YouTube a better place. Thousands of dedicated people make up the online Black community, and their work is to be appreciated with equal vigor. Take time to find a new creator, a new video, a new story, and sit back and enjoy the entertainment and insights that the Black community has to offer.
Learn more about TikTok, read 3 Reasons Why TikTok Excels at Growing Brands' Awareness + Engagement.