New Yorkers Bash Best in Our Social Media Sentiment Analysis
On our 5th day of analyzing Super Bowl social media sentiments and general fan bashing, we're starting to get a nice picture of how people tweet, blog, and snap their hatred of the other team and its players. Predictably, things are starting to heat up as we get closer and closer to Super Bowl Sunday and New York fans are looking unstoppable.
Fans were laying down the smack talk at a fairly equal pace for most of the week, with Patriots haters just edging out the Bostonites Sunday through Wednesday. But around Thursday evening, Patriots fans began turning up the heat on New Yorkers:
But while Giants-team haters may be taking the lead, those with grudges against Tom Brady, Bill Belichick, and Rob Gronkowski have been dominating social media all week long. With peaks last Sunday night and Friday morning, it's apparent once again that Twitter loves to hate the Brady Bunch.
You can see the volume of vitriol in the pie charts from the past 5 days below, as well.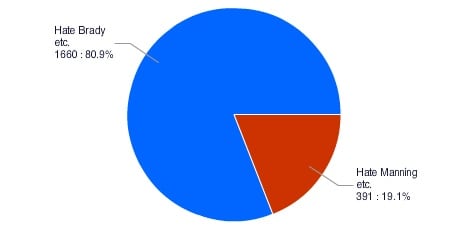 So we've finally got a resolution to the question we set out to answer: Who talks the best trash, New England or New York? And it turns out New York Giants fans hate the Patriots more than Patriots fans hate the Giants.
We also learned that Boston's team quarterback makes quite a handsome target, which didn't help matters much for the Patriots. To head coach Belichick: next time, draft a quarterback who's not quite so pretty or maritally blessed, and you may avoid some of the internet's most colorful contempt.
Predicting Winners with Social Media
In the week running up to the Super Bowl XLVI the Patriots were losing roundly to the Giants in our smack-talk-off. Some think that social buzz volume could be an indicator of future athletic triumphs…and if that's the case, we'll be betting on our very own scorching, slandering, and slamming New York Giants.
Stay tuned, we've got one more bonus post for you coming up on Monday with a wrap-up of the weekend's Super Bowl-related social activity and a handy infograph to show your friends!
Follow @AmsiveDigital or @sarahvnyc to see the latest on our study of the Super Bowl haterade parade.