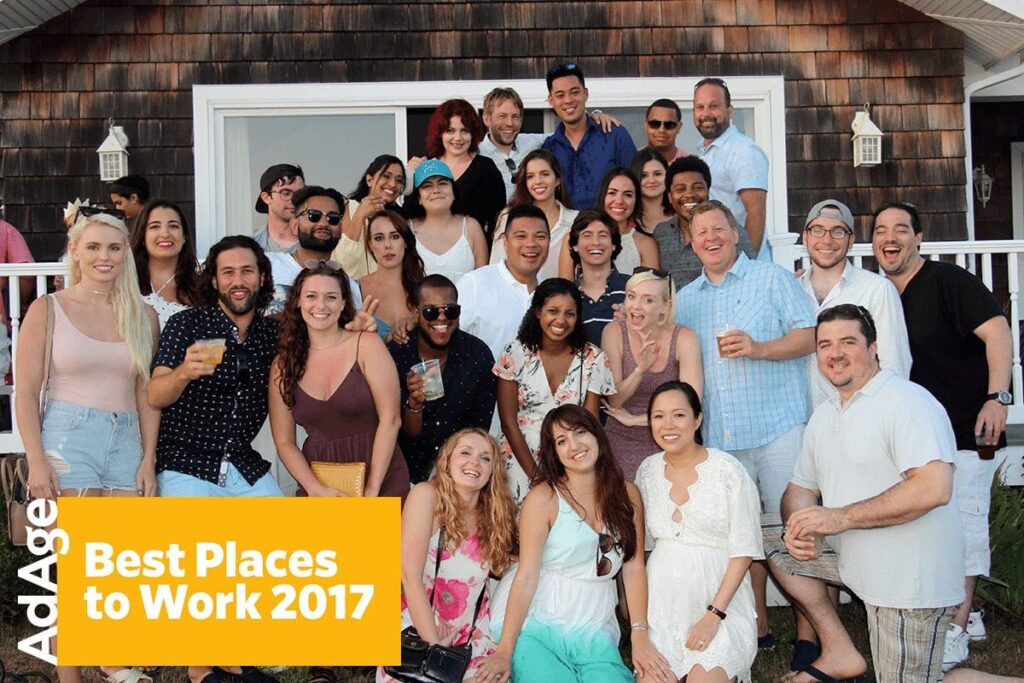 NEW YORK, November 17, 2017 – Digital marketing agency Amsive Digital has once again taken home top honors on the Ad Age Best Places to Work list. The prestigious list annually aggregates fifty companies with high employee satisfaction rates in the marketing, advertising, and media spheres. First landing on the list in 2016, Amsive Digital again placed in the top 5 in 2017, securing the #4 spot in the recent iteration.
Amsive Digital offers its employees plenty of perks, including company-covered medical deductibles, unlimited time off, 401k matching, and weekly group fitness classes. However, Michael Coppola, the agency's co-founder and CEO, is quick to stress that these measures are not just a recruiting gimmick, but a genuine effort to try to make sure that team members are thriving and being rewarded for their efforts.
He stated "The bottom line is that fulfilled, motivated employees are a key component in doing any worthwhile work. We're going to continue investing in even more initiatives that make the Amsive Digital experience rewarding for our employees and, in turn, for our clients. We expect great things for our company as we move into next year."
The win comes in the midst of an exciting year for Amsive Digital, which also recently landed on the Crain's Best Places to Work list for the third year in a row and was named the 2017 North America winner of the Google Premier Partner for Display Innovation. The latter win was based on their work for talent acquisition suite, iCIMS, which broke ground by connecting offline conversions to impressions on the Google Display Network (GDN) and helping prove the indisputable value of display media as a digital marketing channel. (More information on their winning entry can be found at https://www.amsivedigital.com/blog/display/path-interactive-named-2017-americas-winner-googles-display-innovation-award/)
Amsive Digital's momentum shows no sign of stopping. Asked about the company's future goals, co-found and COO, Michael Candullo, remarked, "In addition to the prestigious honor of having a recognized workplace culture, our team continues to focus on successful outcomes for our clients.  We have accelerated investment in technology and analytics to drive innovation and differentiate ourselves within the digital space. We are bullish on 2018 and beyond."
The 2017 Ad Age Best Places to Work list was compiled as a joint effort between Ad Age and the Best Companies Group. Companies in pertinent industries were evaluated based on workplace policies, practices, philosophies, and demographics, which accounted for 25% of the ranking process, and on employee assessments of their experience, which accounted for 75% of the ranking process. The Best Companies Group analyzed these findings and compiled list results.
See the full 2017 list of Ad Age's Best Places to Work here: http://adage.com/article/agency-news/places-work-2017/311248/
About Amsive Digital:
Amsive Digital is a digital marketing agency headquartered in New York City's Flatiron District. Their expertise spans a full range of marketing services including SEM and display management, SEO, website design and development, and social media marketing. Amsive Digital's client list includes respected brands such as Zagat, Time Inc., Scholastic, Carmex, and Jackson Hewitt. They are recent winners of Google's 2017 Display Innovation Award in the Americas, the 2017 WebAward for Outstanding Achievement in Web Development, and the Award of Excellence and Distinction in the 23rd Annual Communicator Awards. They have appeared on the Crain's Best Places to Work list in 2015, 2016, and 2017, and on the AdAge Best Places to Work list in 2016 and 2017, most recently ranking #4. Learn more about their work at www.amsivedigital.com.