Improve your brand's value and boost search results at the same time with a sustainable website.
Additional Contributors: Michael Wright
Consumers want to build relationships with brands that help them live their values. In highly competitive markets and industries, and with the right audience—primarily younger generations but growing—you can differentiate your business by working towards a carbon neutral website. This choice can define your brand for consumers and set your business apart.
Sustainability is now one of the top business concerns among younger generations. Gen Z is at the center of this shift, with an increased focus on environmental issues and using their purchasing power to support businesses that take climate change and sustainability seriously. In the two most recent surveys of Gen Z's personal concerns from Insider Intelligence, climate change and protecting the environment ranked as the #1 and #2 concerns, respectively. For the business world, it's becoming a top priority as well:
The scale of these projects varies, but the major players in the tech space are making it clear that these are features, not just pet projects. However, this commitment is far from universal.
"There is increasing pressure in the public markets to invest in sustainability-oriented companies," said Jack Gold, principal analyst with J. Gold Associates, in an interview with ComputerWorld. "While some companies are willing to make the [significant] investment to achieve a sustainability posture, many organizations are not making the investment, or at least not a sufficient investment."
Making your website carbon-neutral can be a clear way to show your brand values and commitment to a sustainable future. Learn how to measure and decrease your website's carbon footprint—and what going green can mean for your business.
What Is A Carbon Neutral Website?
Websites and the internet as a whole contribute a notable amount to global greenhouse emissions. According to a report published by The Shift Project, a Paris-based think-tank on energy transition, the internet—including associated equipment like servers, networks, terminals, etc.— accounted for 3.7% of global emissions in 2019 compared to 2.5% in 2013, a 9% year-over-year increase. That 3.7% is comparable to the global emissions of the airline industry and is expected to only increase for the foreseeable future.
There's a growing number of hosting services that boast carbon neutrality as a key selling point and other companies that are working with partners and customers to improve the carbon footprint of their websites beyond just hosting.
What it takes to make a website truly carbon-neutral isn't a one-size-fits-all type of solution. The range of factors that go into what a website is are vast, including servers, networks, and terminals on the physical backend. Digital factors like page assets, load time, internet speed, and more all contribute to the overall carbon footprint of your website and need to be accounted for to accurately claim neutrality.
While there is no global standard for what makes up a carbon neutral website, the United Nations 2030 Agenda for Sustainable Development is a good place to start looking. Adopted by all member states in 2015, it outlines the UN's plan to push for a better future across the globe.
Of the 17 goals highlighted by the UN, four directly apply to websites and internet infrastructure:
7: Affordable and Clean Energy: Improvements in energy efficiency and ensuring access to modern energy options for nationals across the globe.
12: Responsible Consumption and Production: Combat our growing reliance on natural, non-renewable resources and ensure sustainable consumption and production patterns.
13: Climate Action: Taking urgent action to combat climate change and its impacts.
17: Partnerships for the Goals: Strengthening implementation of new technologies throughout the world and improving sustainable developments throughout.
The UN allows businesses and organizations to include these badges on their websites with prior permission and a licensing agreement. Securing usage requires a proposal that includes clearly outlining sustainability plans. Just like any awards badges, these icons can carry weight for conscientious customers looking at the products and services you offer.
Why Does Sustainability Matter?
Here's a common example. New customers shopping around and comparing businesses are increasingly likely to factor in a company's commitment to sustainability when making a final purchase. They may compare a half-dozen companies offering the product or service they're looking for, and in many cases, the pricing and services or products provided could be relatively close in value and cost to each other. If one company in particular has a carbon neutral badge on its site, that can immediately elevate it from competitors and increase the chances of a purchase.
Climate consciousness, green initiatives, environmental focus—whatever the name, this push for sustainability has existed for decades. In 2022, the business world reached a tipping point. A recent Gartner survey reported that for the first time in the survey's history, environmental sustainability earned the 8th spot in CEOs' business priorities, compared to when it ranked 20th in 2015 and 14th in 2019.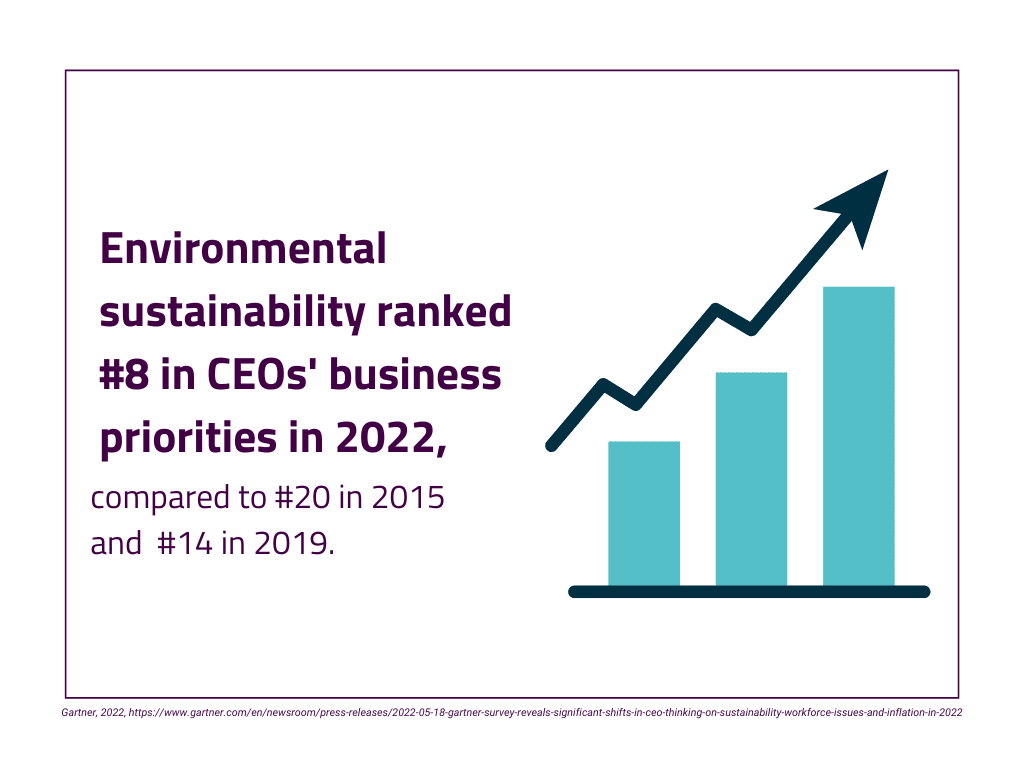 "As business leaders feel the pressure from key stakeholders to do more on environmental sustainability, they are now treating the needed changes as opportunities to drive business efficiency and revenue growth," said Mark Raskino, distinguished research vice president at Gartner in the publication of the survey's results.
The contributing factors that led to this increase in priority go far beyond arguing for the abstract betterment of the planet we live on. 74% of the surveyed CEOs agreed that boosting sustainability efforts attracts investors; the pandemic highlighted and revealed major issues with global supply chains that could be alleviated with more sustainable business practices; Russia's invasion of Ukraine amplified a myriad of economic factors, including inflation.
On top of these clear needs to invest in better technology, sustainable business practices are profitable. For example, in the shipping world, AI-powered models are improving the efficiency of their shipping operations, both to improve routing as well as cut back on emissions. In the infrastructure world, some customers have access to a high-water usage alert service that detects leaks automatically so repairs can be made immediately, saving hundreds of millions of gallons of water already.
The economic impact of improving business sustainability is apparent, but convincing potential clients, customers, and business partners of your business's commitment to these goals is its own challenge. With the digital world we live in, your website is the clearest and easiest way to display that green commitment publicly.
"You can strengthen your brand and differentiate your website by having this certification on it," said Michael Wright, an SEO Strategist at Amsive. "Something showing that you're making a commitment to this. That obviously resonates with people who are passionate about that and sets that company apart from competitors."
How To Measure Your Website's Carbon Footprint
Calculating your website's carbon footprint needs to account for emissions along the entire pipeline, from server to screen. On the infrastructure side, there are a growing number of hosting providers that tout clean and green energy power, including 100% solar-powered servers available to businesses across the country. This is only one part of the picture—cutting back on the amount of energy your website taps into to load in the first place can have a significant impact as well.
Loading a web page takes energy, so determining page size, load speed, network equipment used, end-user devices that access your webpages, and views per month all factor into this number. Google offers a tool, PageSpeed Insights, that outlines exactly how your website is loading, where friction points occur, and what you can change to improve load times.
Improving these parts of your website not only helps you cut back on the overall carbon emissions each time it's loaded, but it will also have an effect on your website's overall ranking on search engines. Page speed and load times are major ranking factors on Google, and have become increasingly so since the 2018 "Speed Update". While only a part of what it takes to rank well online, improving these factors will benefit your business on multiple fronts.
Using this tool to better see where your website needs fine-tuning is only part of what this type of audit should consist of. Understanding each of the metrics and what can be done to revitalize and improve them to match modern standards is key—in some cases, only a light touch is needed, and in others, a complete overhaul of how your website is built may be necessary. For more information on best practices regarding your core web vitals, Amsive Digital's Director of Web Development Mark Davoli has an extensive breakdown that can help lay out these factors and what can be done.
Given the weight of public interest in this type of work, ignoring it will come with increasing risk. The wave of change is cresting, and savvy businesses can use it as an opportunity to gain an advantage over their competitors. Not only will this display of commitment help give you an edge when potential customers are looking for your type of services, but improving your website to meet more efficient standards will help push your website higher on search engines so more people will see and engage with it in the first place.
Building and running a carbon neutral website is only one part of a data-centric, performance-driven strategy, giving you the power to know more and do more. Dig deeper into how to improve your website to rank online, or let's talk about how to achieve more for your marketing — and your business.